The Department BIOSOL provides installation, maintenance and rehabilitation of solar systems and solar input supply to customers and partners.
This department is 15 years old and has a versatile team of technicians that are experienced in solar photovoltaics, radio and cold chain equipment.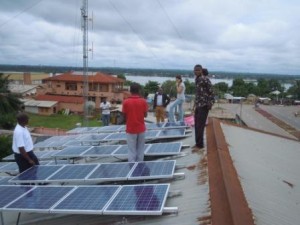 Cyber café in Kindu, Maniema province
Satisfaction of its services to customers is achieved through:
Listening to customer concerns,
Sizing of solar photovoltaic systems adapted to customer wishes,
Input supply quality solar with the possibility of collateral,
User training, maintenance of the installed system after each installation to provide the customer with a certain independence in terms of maintenance,
Technician training, upon request, to strengthen their capacity,
Advisory support to partners in the areas photovoltaic solar radio and cold.
BIOSOL is an ancient and credible partner in the solar photovoltaic sector in the Democratic Republic of Congo.